Education research is our focus
Welcome to PER-Central, a resource collection for physics education researchers. Here you may find articles, theses and dissertations, research groups, curricular material, and news and events of interest to the PER Community. Learn more about PER-Central.
PER Literature
Search the literature by:
Or find an article by topic:
By Topic:
Astronomy, Classical Mechanics, Electricity & Magnetism, Fluid Mechanics, General Physics, Mathematical Tools, Modern Physics, Optics, Oscillations & Waves, Other Sciences, Quantum Physics, Relativity, Thermo & Stat Mech
Reviews in PER
Volume 2 of Reviews in PER is dedicated to helping researchers get started in Physics Education Research.

In this review article, a member of the PER community presents an overview of an area of PER:
Regulations and Ethical Considerations for Working with Human Participants in Physics and Astronomy Education Research
by J. C. Antonellis, E. Brogt, S. R. Buxner, E. F. C. Dokter, and T. Foster.
Find more articles introducing PER research methods in Volume 2 of Reviews in PER.
Community Resources
PER Programs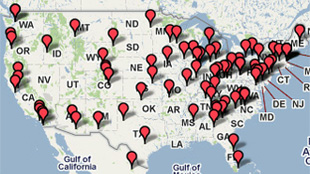 Browse the different PER groups and their descriptions on the PER Program Map.
For the Classroom

SEI Upper-Division Quantum Mechanics I Transformed Course Materials
This web site provides research-based materials for junior-level quantum mechanics 1 courses. Topics covered include the Schrödinger equation, bound state problems, Hilbert space and operators, the hydrogen atom, and spin. The course archives include documented student difficulties, learning goals, ConcepTests (clicker questions), class activities, homework, tutorials, and a conceptual assessment tool.
Find more PER-based Curricular Materials: Course Packages | Student Activities | Pedagogy Guides
Research Instruments
Brief Electricity and Magnetism Assessment
The Brief Electricity and Magnetism Assessment (BEMA), developed by Chabay and Sherwood, assesses student understanding of basic electricity and magnetism concepts. It is written for college-level calculus-based introductory physics courses.
PER Announcements
PERC 2013 Abstract Submission is open
Invited abstracts are due by May 24. Contributed abstracts are due by May 31.
PER Events
Foundations and Frontiers of Physics Education Research 2013
The biennial FFPER conference will be held June 17-21, 2013 in Bar Harbor, Maine.
Physics Education Research Conference 2013
The theme of PERC 2013 is From Fearing Physics to Having Fun with Physics: Exploring the Affective Domain of Physics Learning from Multiple Perspectives. The conference will be held July 17-18, 2013 in Portland, OR following the Summer AAPT meeting.
Latest Additions
Latest Discussion Posts
May 16 at 9:48 AM EST
Steve Maier posted Science Faculty with Education Specialties (SFES) report to the US - Solo Physics Education Researc... thread.
May 10 at 12:58 PM EST
Steve Maier posted PERLOC seeking PERC 2014 organizer(s) to the US - Solo Physics Education Researc... thread.
April 15 at 6:04 PM EST
Steve Maier posted Solo PER Peer Reviews to the US - Solo Physics Education Researc... thread.
March 12 at 4:11 PM EST
Brian Utter posted Re: Question about postdoc offerings to the US - Solo Physics Education Researc... thread.