Organizing a PERC: Comments from an Organizer Waist Deep in the Process
posted by Steve Maier, Northwestern Oklahoma State on
Curious on how an organizer got involved? Here's the origin story of how Steve Maier became a PERC 20/20 co-organizer.
If you are interested in organizing PERC 2021, go to this post for all the details.
Romanticizing a bit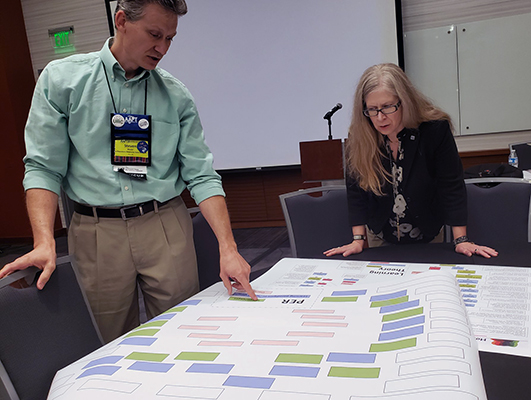 Steve Maier and Beth Cunningham looking at a concept map with colorful rectangles
At the PERC 2018 evening poster session, I was visiting with presenters and weaving in and out of the traffic of thought provoking conversations, just like most everyone else. Then at the end of the rows of posters, between the cash bar and the PERLOC "office hours," I saw an otherwise blank wall divider with a few sheets of paper pinned to it. It was an open call for ideas for future PERCs! Curiosity of others' ideas drew me in...
Reading the posted notes and remaining in the moment, there was something about that unassuming bulletin board that opened PER up to me in a new way. Anyone could post an idea, as if to say that anyone engaged in PERC could serve as an organizer -- not just PER's "heavy hitters." I shook my head at the thought, knowing my role in PER has been one of an onlooker and practitioner rather than a shaker and a mover. Still, I added my own note about "pedagogical diffusion" because the notion of disciplines cross-pollinating and impacting one another resonates with me and I wondered if it did with others, too.
Overcoming "obstacles"
That act, along with conversations with others, eventually led to becoming part of an organizing team and recruiting additional organizers to submit a PERC proposal draft. The ins and outs of those interactions aren't really fodder for a page turning newsstand novel, but here's a quick rundown:
Time was spent deliberating over whether or not the task was in my wheelhouse--so I hesitated
Like everyone else, I have a lot of responsibilities that tax my time--so I had reservations
I'm more of a PER wallflower than recognized for publications/grants--so I had doubts
Deep down, I knew that committing to this effort would force me to engage in the community in a new ways--so I had motivation
In my case, motivation alone would likely not have been enough. However, other PERC 20/20 organizers were (and remain) instrumental in helping me recognize there are meritable roles I can fill. Encouraging me to pursue my own spaces to contribute to PERC 20/20, the organizing team has provided a form of validation that I suspect will always be a highlight for me. I only hope I am returning the favor, because I am quite grateful.
And now, the realities of organizing...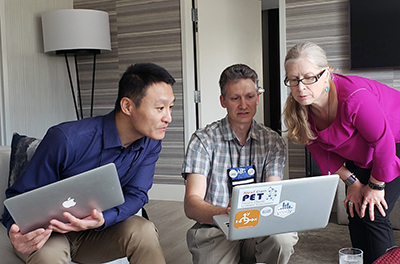 Lin Ding, Steve Maier, and Beth Cunningham working on PERC 20/20, at PERC 2019
Working on the main theme, brainstorming about our own spin on things, and working out the finer details with members of the organizing committee has required video conferences, email exchanges, and in-person conversations that would not have taken place otherwise. While rewarding, these take time. And my advice would be that if you're seriously considering organizing a PERC, be prepared to engage and set aside regular time in your schedule to do "PERC work." It will not happen on its own.
Wrapping up with a pep talk
Steve Maier and Alexis Knaub, working on creating the blog during the 2019 summer meeting.
And, if permitted to be so bold, I would say this: If you're a regular contributor, practitioner, or participant of PER, PERC needs you--consider becoming an organizer. But there's a less obvious and more salient point I'd like to draw from my perspective. So I'll repackage the above statement in a way that helped motivate me to step forward: If you find yourself really looking forward to PERCs, its themes, and enjoy thinking critically about the sessions in the weeks/months following the return trip home, then PERC needs you. This is especially the case if your voice is one that is not the most prominent in PER. Organizers interact in PER at a new level, making new connections and establishing new collaboratives. Your perspective could provide just the looking glass others may need to carry the discipline further.
Tags: PERC conference organizing
---
PERC 20/20 Conference Blog